Are you looking for intuitive and robust WordPress contact form plugins for your website? To an extent, contact forms make it relatively easier to make things possible for you. The basic level makes it easier for your potential customers and site visitors to contact you quickly and instantly.
However, the contact form plugins can be used to create complicated order forms, or they can be used for lead generation and revenue management purposes.

We'll compare the best contact form plugins for the WordPress platform in this post. So you can get hands-on practice with the most powerful and rapidly emerging contact forms that will boost your brand identity to the next level in 2022.
What are Contact Forms?
Contact forms offer developers an intuitive and robust way to acquire information from visitors, and they can be a valuable resource for a variety of niche-specific topics. A contact form can be as simple as intimidating someone via email to receive a callback number or as complicated as a job application.
In several cases, the contact forms collect information from site visitors and customers such as email address, contact number, address, age, location, gender, and vice versa. As a result, it helps you understand your user base and specifically select an advertisement campaign that suits the business requirements of your website.
However, if you want to collect information effectively, your contact forms need to look professional and match your website's style. Likewise, the site visitors might not be inclined to trust them in a particular order to develop stunning and seamless WordPress forms.
To start, let's talk about the best contact form plugins that will help you build your brand's image to a whole new level.
Gravity Forms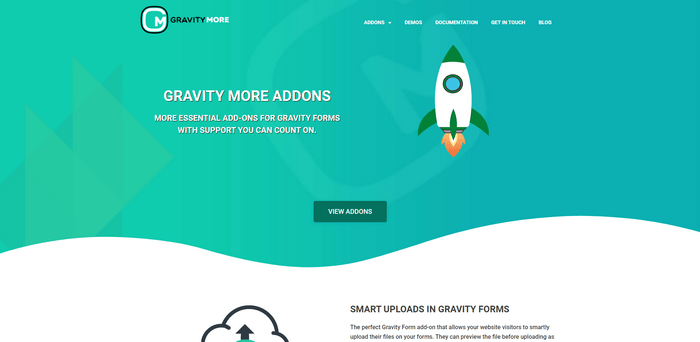 Gravity Forms is a top-notch contact form builder plugin for WordPress-enabled sites that comes integrated with top-tier advanced functionality and features. Its drag and drop form builders give you the essence of developing complex forms within a few minutes and customizing your form fields, among which there are 30 elements to choose from the list.
It also enables you to incorporate your contact forms with third-party repositories and service-based applications such as Dropbox, Slack, Zapier, PayPal, MailChimp, and much more. It refers to the sole purpose of your contact form. Furthermore, it helps you leverage the user experience or digitalize the lead generation procedure and saves considerable time.
In particular, if you want to invest in higher-paid plans, you can easily get access to a complete host of Gravity Forms plugins. For instance, the plugin can easily build surveys, quizzes, user-submitted content, and even contests. Hence, it will help you leverage user engagement and conversion rates to generate enormous revenue and instant higher-quality leads.
Features
Following are some of the features of the Gravity Forms plugin:
It enables the option of conditional logic to show or hide form fields as per the user's behavior. 
Provides instant email notifications after each form submission.
Offers multi-page forms to alleviate form fatigue and keep things organized.
Enables the user to manage the file uploads to easily upload documents, images, and much more.
Restrict form entries and schedule long appointments to capture data insights. 
Supports Akismet, Google ReCaptcha, and Really Simple Captcha spam relinquishing options.
It also comes with a built-in responsive design that makes your forms render seamlessly for all site visitors.
Contact Form 7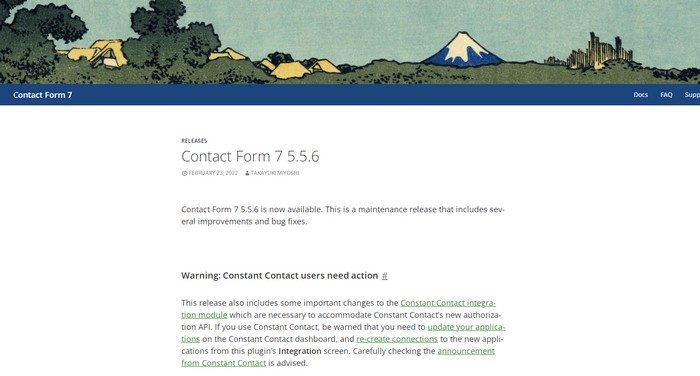 Contact Form 7 is one of the essential plugins that cater to over 5 million active installs. Thus, it makes it one of the most actively installed plugins for WordPress in a general order, and that is because it seems to be good at what it does in an instant and sequential order.
Hence, if you want to build forms. It's a cinch with a simple interface that supports multiple features such as Akismet support and Google ReCaptcha for anti-spam features and vice versa. Perhaps, it is one of the most enduring features that work well for managing the capabilities for integration tactics.
Significantly, Contact Form 7 seems to be quite popular. Several third-party plugins have been developed to put enormous effort into ensuring they work with their personalized systems. Eventually, it seems more impressive in the context that it can be easily added with even more features to this plugin.
You can do much more with the right set of capabilities via this seamless and mesmerizing plugin.
Features
Following are the features of the Contact Form 7 plugin:
Provides a Drag & Drop Builder feature to easily set up your contact forms without making any alterations to the code.
It also comes equipped with the Conditional Logic feature that hides or displays relevant form fields depending on the user's input to your contact form.
Enables users to fill out your form portion-by-portion along with the multi-page forms feature.
Enables users to manage and sort the information added to their contact forms via the entry management feature of the contact form 7 plugin.
The email integration feature allows users to send marketing collateral to their target clients via emails.
Ensure that unsolicited email shouldn't affect your website concerning the intuitive spam protection extension.
Provides built-in popup message functionality with sufficient triggers to meet your marketing needs.
It gives you the tools to use the attention-seeking criteria of people interested in your products and services and your contact form to get them to pay attention.
Everest Forms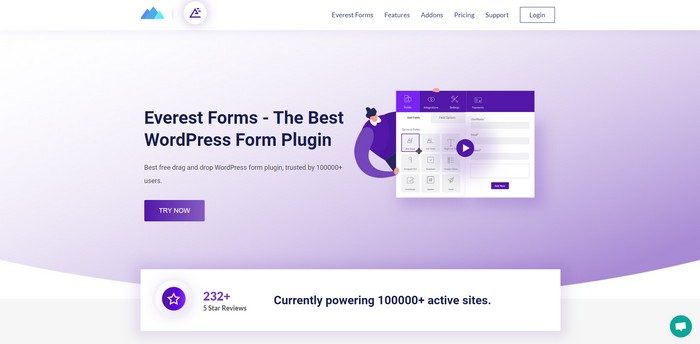 Everest Forms is also a powerful and robust WordPress plugin for developers looking for a rapid app development interface to create WordPress forms. It is a quick, fast, lightweight, easy-to-use plugin that includes multiple pre-built templates, and it seems to be mobile-friendly and responsive.
This is getting various insights to get the wide spectrum of features the plugin offers. So you can easily create forms with a wide variety of elements. Including text boxes, drop-down boxes, radio buttons, checkboxes, and relevant forms elements.
Adding forms couldn't be any easier or more conducive task that helps you create them. All you need to do is add the Everest Forms block within the Gutenberg editor. Choose your desired form that needs to be integrated via the drop-down menu bar. It seems to be quite an easy and effective plugin that helps users add multiple elements. In addition, it adds forms that won't be made easier.
After creating them. You must add the Everest Forms block within the Gutenberg editor and select the form you need to add from the drop-down menu. It looks like it's a simple and easy-to-use plugin that works well with many different platforms.
Features
The following are the features of the Everest Forms Plugin:
It provides essential rapid applications developed from fields and rearranges them to build top-notch WordPress-based forms without any hassle of investing your time in coding, and it seems to be easy.
Enables users to choose a suitable form template for your site; it also provides users with the facility of adding, deleting, and rearranging fields that meet your desired results.
Creates an unlimited number of forms; there isn't any limitation or restriction with this seamless and user-friendly plugin.
Each and every submitted form is listed in entries, so you don't have to fear losing any leads. Additionally, you can eventually start to manage (view, edit, delete, restore) each and every entry in the form right from the initial phase of your WordPress dashboard.
Everest Forms enables all the relevant entries of the form entries listed in your dashboard to be exported as a CSV file with just a push of a button. 
Acquire real-time email notifications upon the submission of your form. It also enables you to send a customized welcome or confirmation email once you've successfully received forms from your potential customers. 
Enables users to effectively submit the forms without reloading the site page using the submission feature of the Ajax form.
Ensure the success metrics of your marketing campaigns with effective email marketing solutions that include: ConvertKit, MailerLite, ActiveCampaign, MailChimp, and Campaign Monitor.
It also ensures the multi-step form with the progress bar you need to provide an intuitive user experience. A progress bar in your multi-part forms will allow users to navigate across your form in a successive manner.
Jetpack Forms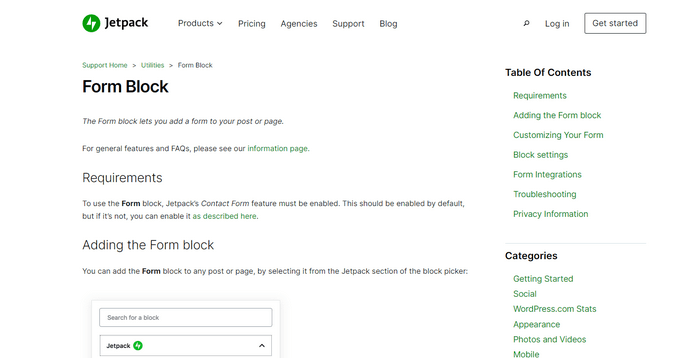 Jetpack Forms is one of the popular Jetpack plugins for WordPress; the form builder comes equipped with a built-in contact form. Furthermore, with this plugin, you can easily create a basic contact form for your site visitors to use when they want to get in touch with a team of experts or want to subscribe to your email list.
The great aspect of using Jetpack's contact form is that if you're already using the Jetpack plugin. It seems to do nothing more than enable the contact form module. From there, you can either.
Click on the add form button in the classic editor to add a form to any post or page. 
Enable users to add the Jetpack form block in the Gutenberg Editor and add a form to any post or page.
Features
The following are some of the important features of Jetpack forms:
It provides enhanced website functionality with a variety of built-in features.
Provides enormous amounts of traffic growth statistics and many more. 
Ensures fortified security measures and parameters and many more. 
Ensures the centralized management of websites. 
Supports SEO-optimized configurations and settings.
HappyForms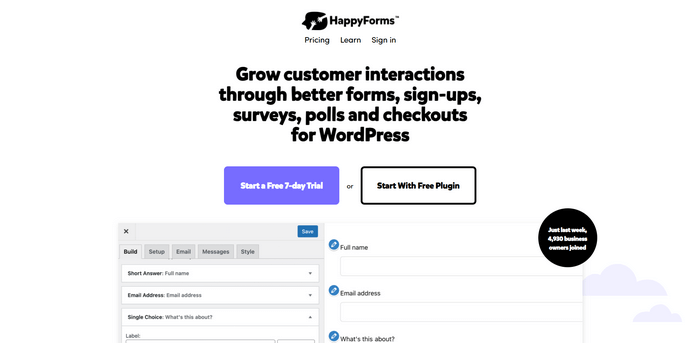 HappyForms is the newest addition to the WordPress contact form plugins available in the marketplace. But you don't need to worry about it as a reputable company, Theme Foundry, developed it, reviving in the WordPress space for a certain duration.
One of the most unique aspects of the contact form plugin is that it is developed using the WordPress customizer. Which is most likely to get familiarized with you in a particular time frame. It features lightweight code, massive performance. Also the ability to drop forms anywhere on your website, including site pages, social media posts, and widget areas.
Also, this plugin is capable of submitting all the messages by users that are copied to the WordPress dashboard or emailed to you at the email address of your choice.
Features
The following are some of the features of the HappyForms plugin:
It provides a one-click honeypot and Google reCaptcha.
Provides dashboard analytics for monitoring progress.
Highlights the partial entry captured.
Provides multi-page forms.
Protects forms with passwords.
It functions as a Scheduler of form entry limits.
Form response filtering function that is intuitive
Unrestricted responses and forms.
Which Contact Form Plugin is Best?
The question "Which is the best WordPress contact form plugin" tends to be complicated? As various companies have different business needs and vice versa. If you want to get the most out of your contact forms, you need to always think about your users.
Hence, the perfect contact form is easy to navigate straightforward for your users. But, above all, it meets the relevant tactics required to streamline your business operations to the next level.
Author Bio

Lisa Powell is a digital marketing expert with many years of experience in marketing strategies for different platforms. She is also a guest blog author who loves to share her knowledge with the audience by blogging on various topics.
WPBN is curated news aggregator website focusing on trending and hot news from the WordPress community.