A website is an asset of the company and if you are the owner of a WordPress site then it is your responsibility to assure that your site is safe and secure. For online success, you must have juggled with all kinds of things right from designing, hosting, marketing, SMM, SEO, content, paid ads and more.
The journey of implementing all these activities must be hectic and overwhelming. To improve the online success, it is crucial to opt for Managed WordPress hosting. In this post, I will highlight the benefits of managed WordPress hosting that will help you to know why you should consider the same for your business website.

What Is Managed WordPress Hosting?
It is not compulsory that every website owner is aware of technical terms to run a website. Therefore, most of the hosting providers offer managed WordPress hosting to overcome this issue. This type of hosting solution is suitable for websites like small-medium sized businesses, high traffic blogs, companies looking for specialized WordPress hosting.
In managed WordPress hosting, your web hosting provider offers all the technical aspects and manage your website on behalf of you. These are lists of the services which provider manage such as security, speed, updates, daily backups, uptime, and scalability.
The aim behind offering managed WordPress hosting is to provide a hassle-free experience for the smooth growth of a business. Moreover, premium support is the main advantage of managed WordPress hosting.  Looking for Cheap WordPress Hosting India plan? Then check MilesWeb hosting!!
Pro's of Managed WordPress Hosting
To manage high traffic on the website, servers are configured to work smoothly and rapidly.
Hosting provider offers the best support service to solve your query whenever you require.
Your provider offers best security features to avoid hacking.
To restore your website data, it is suggested to take daily backup and your hosting provider is responsible for this.
An update is done automatically, therefore, you don't need to perform a manual process.
Your server works continuously, therefore, there is no chance of getting the server down.
Con's of Managed WordPress Hosting
It is costly in terms of pricing as compared to shared hosting. Want to upgrade your plan to a VPS. Then check Cheap VPS Hosting plan and host your website with the VPS.
Due to the specialized architecture of WordPress, you can only work on WordPress based websites. However, if you are looking to run extra plugins then the provider may block your plugins.
Because of limited control, you are not given management of the server.
When Do You Need WordPress Hosting?
This type of hosting solution is suitable for small business or large traffic websites. If you belong to a technical field then you have two options: either hire a system admin or buy managed WordPress hosting. Lastly, if you are looking to enhance the performance then buying a managed WordPress hosting is the best solution for your business.
My Recommendation
For managed WordPress hosting, you can opt for MilesWeb hosting. An Indian web hosting company established in 2012 and located in Nashik, Maharashtra. Their servers are located in UK, USA, India, Romania, and Australia. While signing up, you can select any location as your account will be set up on a respected server.
MilesWeb has received the best rating from social media and other rating sites. An award-winning web hosting company, MilesWeb offers best hosting solutions at an affordable price along with 24*7*365 support service. You can reach their helpdesk via chat, email, and phone. Check below plans for Managed WordPress hosting powered by Jetpack.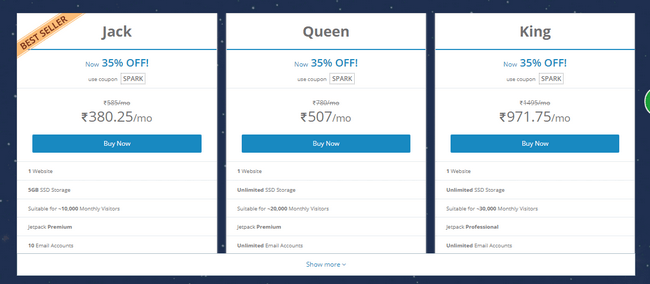 From the above screenshot, you can see that they offer three plans starting from Jack Rs. 380.25/ mo and rest are Queen and King plan. You can select any plan as per your need and each plan consists of discount of 35% OFF that again makes the price affordable.
Why Choose MilesWeb Managed WordPress Hosting?
Automatic WordPress Updates
Server Level Caching
Fast SSD Storage
FREE SSL Security
WordPress Preconfigured
Fast Provisioning
Jetpack Premium / Professional
24/7/365 Support
30 Day Money Back
99.95% Uptime
CDN
Server-side optimizations
SFTP access
Technical Features Offered by MilesWeb
Cloning: This feature will help you to design a duplicate copy of WordPress site immediately. You can clone your website when you are re-designing a website, incorporating a new theme or testing a plugin functionality.
WP – CLI: This is one of the superior features that helps you to communicate with the website from the command line or programmatically.
Cloudflare Railgun: It is useful to enhance the speed of the non-cached webpages and it is beneficial to maintain a maximum speed between web hosting server and Cloudflare CDN.
GZIP: You can use this tool to improve the speed of the website irrespective of size. It speeds up the website and decreases the server load.
Check Customer Review


Conclusion
After reading the article, I am sure that you must have made your decision, right?  This article will help you to know about managed WordPress hosting and if anything that we have missed out to mention in the article then share your view below in the comment box.
A passionate Digital Marketing Expert and Content Writer working with MilesWeb. I am passionate about writing blogs related to Information Technology and Digital Marketing. In my free time, I love to watch news channels, hang around social networking sites.