You may have seen a person stock up on groceries in the mart and then leave their cart in the aisle. It may be strange to see this kind of conduct in real life, but it's very typical in the world of e-commerce. 
Small business owners know how difficult it is to keep expanding month after month. So, a high WooCommerce abandoned cart rate is the last thing you need. However, many of our clients have already begun to overcome their poor growth rate, and this post will show you how to fight cart abandonment in WooCommerce.

5 Best Plugins to Recover Lost Customers
When it comes to running an online business, abandoned carts are a common but annoying occurrence. However, solutions are now available to help you discover the reasons behind abandoned carts and increase your sales.
We've compiled a list of the 5 best plugins that will help you recover your lost customers. 
WooCommerce Abandoned Cart Recovery.
WooCommerce One Page Checkout.
WooCommerce Live Chat.
WooCommerce Save for Later.
WooCommerce Table Rate Shipping.
WooCommerce Abandoned Cart Recovery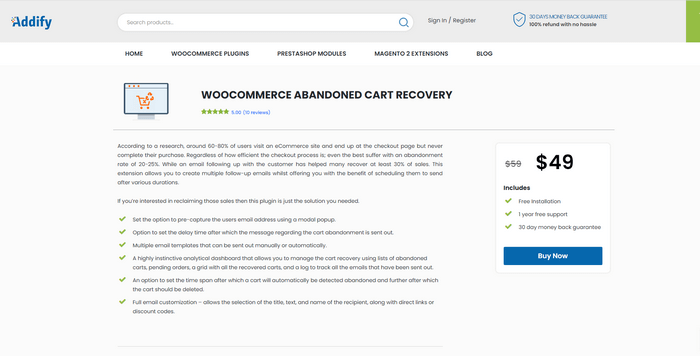 WooCommerce Abandoned Cart Recovery is a WooCommerce plugin that allows the user to recover orders that have been abandoned in the store.
When a buyer adds an item to their shopping basket but does not complete the checkout process, their cart will be marked as "abandoned" after a certain time has passed. The WooCommerce Abandoned Cart Recovery plugin will begin sending the consumer cart recovery emails or Facebook messages, reminding them to complete the order.
The price of this plugin is $49 annually with support and much more; hence, you will be able to get such an amazing feature for the store at such a reasonable price. 
WooCommerce One Page Checkout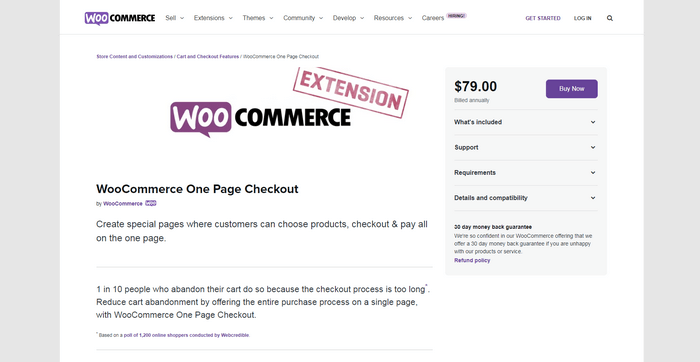 WooCommerce One Page Checkout has made purchasing easier for customers by turning any page into a checkout page. A single page with both product selection and checkout forms makes it easier for your consumers to make purchases using these unique check-out pages.
The major benefit of this plugin is that customers can add or remove products from the cart and complete the payment without waiting for a new page to load. 
With WooCommerce One Page Checkout Plugin, you can display checkout fields on a single product's page or create custom landing pages. This process makes it easier for customers to purchase their desired products while staying on the same page. 
WooCommerce Live Chat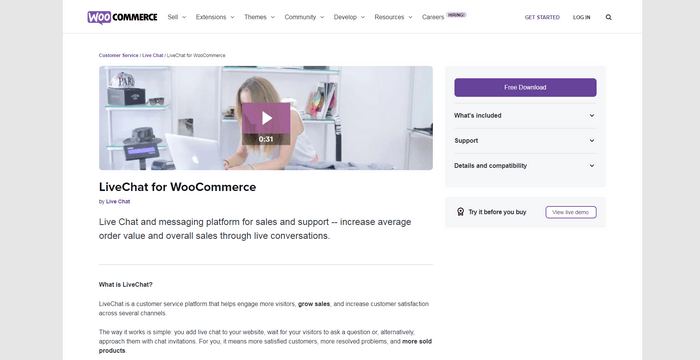 The Live Chat plugin for WooCommerce enables your customers to communicate with you on the website directly. This way, the customers' queries are promptly addressed about shipping or return policies which in turn promotes the chances of purchase. With this plugin, you can set up automated messages, chat invitations, and live chat surveys for sales insights. 
You can make the Live Chat section on your website visually appealing. With the help of a modern chat window, eye-catchers, and chat buttons. Make shopping easier for customers and more profitable with the Live Chat WooCommerce plugin and stay ahead of the competition. 
WooCommerce Save for Later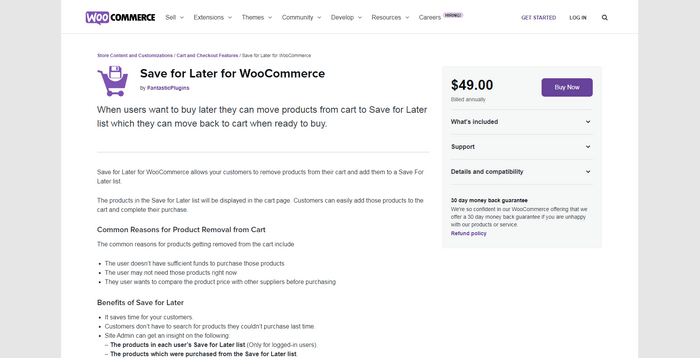 Using WooCommerce's Save for Later plugin, customers can remove items from their cart and add them to a "Save for Later" list. The Save for Later list items will be visible to the users on the cart page. As a result, customers may quickly add these items to their shopping basket and proceed to checkout.
Many times customers don't have sufficient funds for product purchase or desire to buy it in the future. With the Save for Later plugin, they can add the products in the Save for Later list and purchase them at the right time by moving them to the Cart. It saves time and reduces search effort and cart abandonment. 
WooCommerce Table Rate Shipping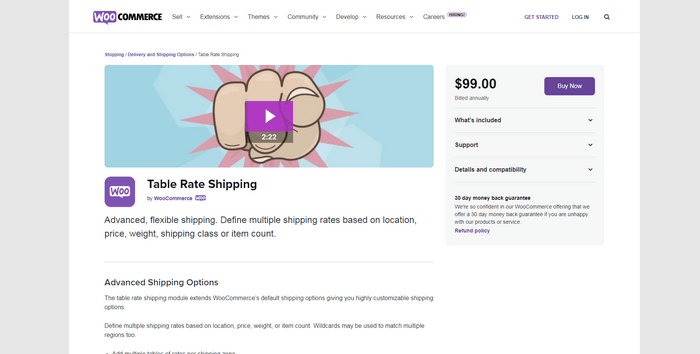 The cost of shipping may be the key reason for shopping cart abandonment. WooCommerce Table Rate Shipping enables advanced shipping options to merchants that they can display on their online store. This plugin extends the default shipping options of WooCommerce by providing highly customizable shipping options. 
With the Table Rate Shipping plugin, you can define multiple shipping rates according to price, weight, item count, and location. You can also create multiple tables for various shipping zones. 
Sell More!
5 of the useful abandoned cart recovery plugins were discussed in this article. Following up with customers is just as critical as bringing them to the checkout page, as you've just discovered. 
In truth, you've made an important step toward improving your WooCommerce store by addressing the issue of cart abandonment. As a result of implementing the best plugin for handling abandoned carts, your business will improve significantly in the future.
WPBN is curated news aggregator website focusing on trending and hot news from the WordPress community.