Newsletters are important!
I repeat, newsletters for your website are super important to grow your business. An email newsletter allows your website visitors to subscribe and receive updates about your blog, promotions, and other things you want them to know.

When the power of newsletters for a website increases rapidly, the practice of managing the email list and sending routine newsletters seems hectic. You may face difficulties in sending newsletters that don't fit your schedule.
What if a WordPress Newsletter plugin accompanies you in this mission? Yes, there are many plugins that help you send Newsletters from your WordPress dashboard itself.
So, why am I here? I have already revealed to you the secret to growing your business through newsletters. But, how?
Not every WordPress newsletter plugin satisfies your need. I am here to help you in listing out the best WordPress newsletter plugins to choose from. Do not worry! I have covered up both free and premium plugins.
Let's get into it!
Top 10 WordPress Newsletter Plugin (Both Free and Paid)
An email newsletter lets you engage with your visitors on a timely basis. Email marketing seems crucial. But, it is one of the effective ways to grow your business.
Few website owners think that their website's age has to be high before starting the newsletter campaign. But, to their surprise, you can start your newsletter campaign right away.
The listicle will help you pick the best WordPress Newsletter Plugins for your website. Let us start.
Optinly

Optinly, the best WordPress Newsletter Plugin, allows you to capture leads and increase your subscriber's list. The goal-based marketing approach in Optinly helps you to create attractive newsletter popups under minutes. You can pick up the popup template among the 75+ templates.
It comes up with an in-built WYSIWYG editor for easy customization. Yes, you do not necessarily need to be a coder or a designer to customize your newsletter popup. The advanced popup triggering options will help you to share every moment of your website with your audience.
What more!! It easily integrates with 10+ email marketing platforms. You can enjoy using Optinly features under a 14-day free trial.
Highlights:
Pre-existing mobile responsive WordPress popup Templates.
Multiple popup types including floating sidebars, gamification popups, notification popups, fullscreen overlays, etc.
Popup transition effects like fade-in, zoom-in, back in and flip-in, etc. to increase engagement and conversion rate.
An attractive user interface to create a popup campaign with zero hassle.
In-depth analytical dashboard to analyze the performance of the newsletter popups.
Seamless integrations with 11+ email marketing platforms.
Pricing:
It starts at $25/month.
Newsletter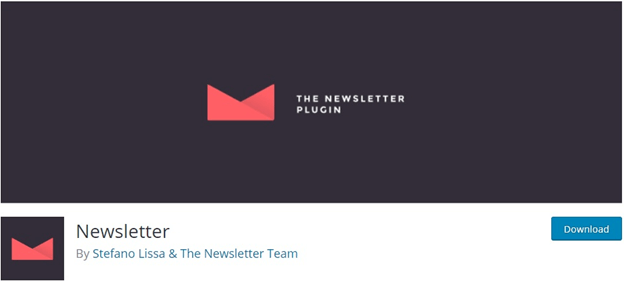 Newsletter, the free WordPress newsletter plugin, is an excellent option for small and medium businesses. It is easy to install and allows you to create beautiful forms. Other than collecting emails, it also helps in sending unlimited email campaigns.
The newsletter plugin will send around 12 emails/hour during your newsletter campaign. Be sure to keep your domain reputation high for avoiding spam. The additional statistics included in the plugin help you to send relevant content to the subscribers.
You can also cross-check the latest email marketing laws through the plugin. As the WordPress newsletter plugin is GDPR ready, you can include links to the privacy policy using single or double opt-ins.
Highlights:
Compatible with all SMTP plugins.
Easy integration with BuddyPress.
Option to send newsletters with HTML or text.
Free plugin with possible integrations.
Pricing:
Both free and premium versions are available.
Blogger ($65).
Agency ($249) *one time.
OptinMonster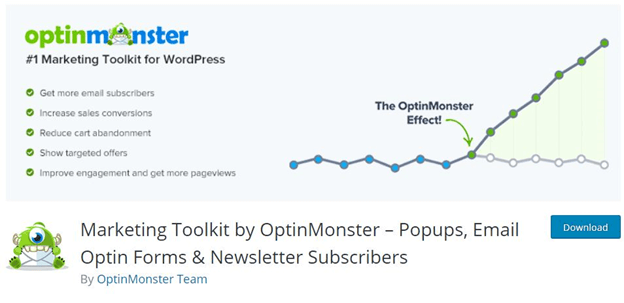 OptinMonster, a WordPress Newsletter Plugin, gives you both form and function to your newsletters. You can create visually stunning popup forms, slide-ins, sidebar widgets, and more. No coding is required. It also has an intuitive drag and drop editor for easy customization.
Like Optinly, the plugin comes up with exit-intent technology. It helps track user behavior and displays the newsletter popup before they bounce back from the site. You can also conduct your campaign after perfect A/B testing. Integrations are also easy in OptinMonster.
Highlights:
Mobile-friendly popups.
Best GDPR WordPress plugin.
Targeted display popup triggers.
Easy and flexible Newsletter Plugin.
One account applicable for multiple websites.
Custom analytical dashboard.
Fantastic Customer Support.
Pricing:
It starts from $9 to $49.
Thrive Leads

Thrive Leads, the best WordPress Newsletter plugin, has been designed to boost the conversion rate. It also includes the growth hacking practices. Using the targeting features, you can expect significant growth in no time.
Thrive Leads has an exceptional builder named Thrive Architect. It focuses on aesthetics and user behavior. You can easily build professional newsletter forms from the 10 available models. You can also customize it on your own.
Once done, do not forget to A/B test the newsletter popup form to test your design, content, and triggers. Thrive Leads integrate with 30 newsletter email services, including MailChimp and Google.
Highlights:
Advanced analytics with detailed insights.
A/B Testing.
Drag and Drop Editor.
2-Step Opt-in forms.
No recurring payment.
Pricing:
It starts from $68 to $147.
MailChimp for WordPress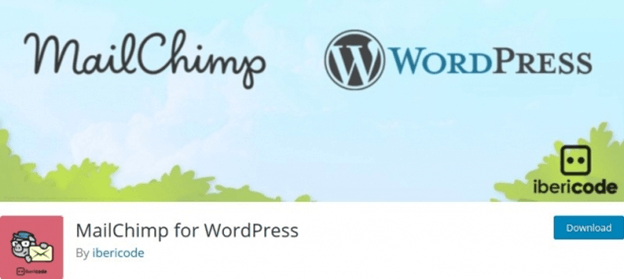 MailChimp for WordPress, a great WordPress Newsletter plugin, allows you to add more subscribers to your MailChimp list. It lets you create stunning templates easily. Without leaving the panel, you can create other marketing tools and templates for social media ads, landing pages, postcards, and even subscription forms.
WordPress newsletter plugin easily integrates with Ninja Forms, BuddyPress, and Event Manager. You can modify the code snippets available on the Github repository page. You can enjoy using MailChimp for free up to 2000 subscribers.
Highlights:
The free plan includes all necessary features, including basic segmentation.
A/B testing.
Smooth Integration with other platforms.
Premium add-ons for form style, email notifications, etc.
Registration forms for automatic sign-up.
All-in-one feature.
Great community support.
Pricing:
Both free and premium versions are available.
Pro ($10) *per month.
Grow ($199) *per month.
Mailster

Mailster, the next best WordPress newsletter plugin, allows you to collect emails on your website easily. You can send your email newsletter campaigns directly through the software or other ESP providers.
You can customize the newsletters through a drag and drop editor to create something relevant to your brand.
Mailster also contains numerous autoresponders. The options may include the number of days from subscription, birthdays, purchase history, etc.  You can also automate the email newsletter campaigns to save your time.
Highlights:
120 stunning email newsletter templates.
Powerful analytical screen to analyze the campaign performance.
Possibility to assign subscribers to a different list.
An unlimited number of subscribers, lists, and forms.
Automated campaigns to improve subscriber engagement.
Real-time campaign tracking.
Pricing:
It starts at $59.
ALO Easy Email Newsletter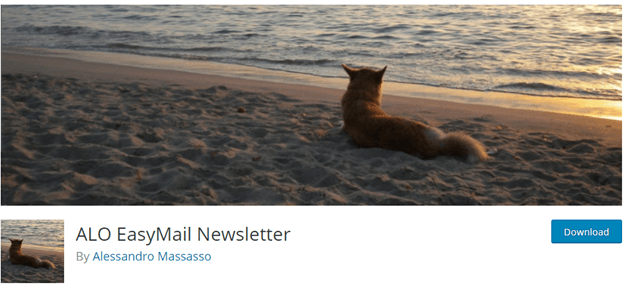 ALO Easy Email Newsletter, one of the best multilingual WordPress plugins, helps create and send newsletters. This plugin helps you to build an attractive newsletter within seconds. You can create the newsletter in 20 available languages.
Being a multilingual WordPress newsletter plugin, you can easily grow and manage your subscriber's list inside the WordPress dashboard.
The WordPress newsletter plugin allows you to get subscribers and manage the email list. If you have already got an email list, you can integrate or import them using a CSV file. Use the dashboard to manage the subscribers into specific groups.
Highlights:
Unlimited subscription list.
Customizable post-type email newsletters.
Privacy Policy Checkbox.
Email segmentation and sending emails at regular intervals.
Ability to view the open rate and the click rate of the links in the newsletter.
Easy management.
Flexible handling of unsubscribing email addresses.
Easy email list import through CSV format.
Pricing:
Free Plugin.
JackMail Newsletter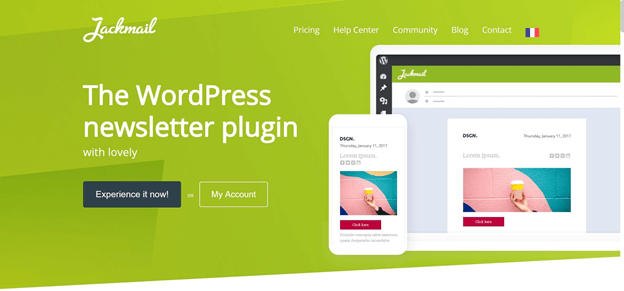 JackMail Newsletter, the WordPress newsletter plugin, allows you to access all its features from the dashboard. Using JackMail newsletter neglects the use of an ESP as the plugin itself has its own SMTP service.
There are 47+ free newsletter templates and are easily customizable. You can also manage your campaigns easily and replicate any successful campaigns from the past.
In-depth analytical feature to understand the reports. You can send around 3000 emails/month using the free plan. The more you pay, the more emails you can send.
Highlights:
Flexible contact management.
Beautiful email design options.
Email Automation.
Fast email newsletter sending.
Track the open rate and click rate of the newsletters.
Intuitive form builder.
Options to send 15k emails/year on the premium version.
Pricing:
Free (3000 emails/month).
Premium ($39-$389/year).
Business ($429-$779/year).
Tribulant Newsletter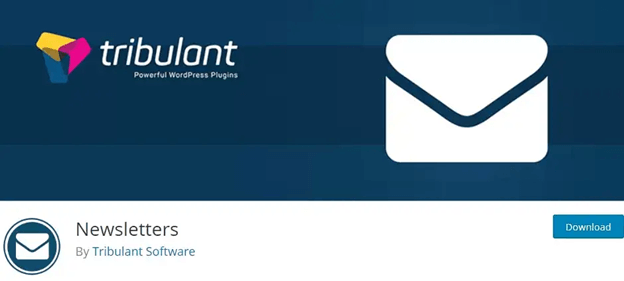 Tribulant Newsletter, another WordPress Newsletter plugin, supports mailing lists, paid subscriptions, POP/IMAP bounce handling, and more. Creating newsletters is easy with Tribulant.
You can even send a post as your newsletter or use any of the default templates present in the plugin dashboard. The queueing features of Tribulant help you to send emails in batches.
You can also set up autoresponders and newsletters in the condition to reach out to the audience. It also integrates with multiple email platforms.
Highlights:
Off-site subscription form that enables the visitors to subscribe to third-party platforms or social media.
Posts can also be sent as newsletters.
Many attractive and customizable email newsletter templates.
Both individual listing and group listing are available.
Statistical and chart-based analysis for the email newsletter campaign.
Integrated gravity forms and embedded images are available.
Pricing:
Lite (Free).
Blogger – $65.
Developer – $195.
SendPress Newsletter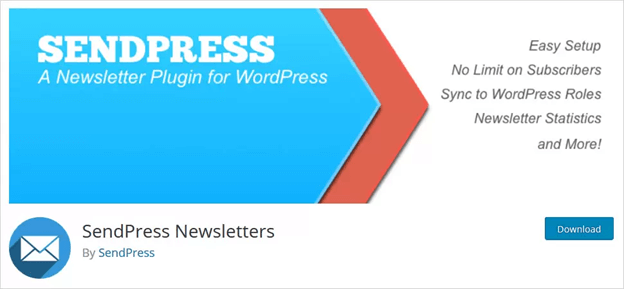 SendPress Newsletter is a fully responsive and easy-to-use WordPress Newsletter plugin. It focuses on simple creation and effective scheduling.
One of the main advantages of using the SendPress Newsletter plugin is that it has numerous customizable newsletter templates. Every newsletter template has its own uniqueness that grabs the attention of the visitor entering the website.
With the SendPress Newsletter plugin, you will have access to a simple code-free newsletter editor. It also has responsive newsletters with tracking and scheduling. The signup form and the widget will help in increasing your email subscribers list.
Highlights:
An unlimited number of subscribers.
Send free newsletters using a web host or Gmail.
Single and double Opt-in confirmation.
Newsletter Editor feature to edit the newsletter.
Send and easy tracking of fully-responsive newsletters.
Both text and HTML versions of the newsletter can be viewed.
Pricing:
Personal – $39* per year.
Standard – $99* per year.
Business – $199* per year.
Developer – $399* per year.
Final Thoughts
WordPress can be a great platform to create and send newsletters. You can get everything, including the subscription forms, mailing services, and other benefits. The key is knowing what you need.
A mandatory key!! Yes, you need to analyze your site's requirements and choose the right plugin for your business. When it comes to WordPress newsletter plugins, you always want a proper email marketing platform with complete email delivery services.
Due to the lack of powerful features, businesses have now been moving towards the WordPress Newsletter plugins like Optinly and the other plugins listed.
Using these WordPress Newsletter plugins, you can connect your WordPress site with powerful ESPs available. So, you can get the best from both worlds. Cheers!!

Monisha Thangavel is an ardent writer and a blogger carrying years of experience in different realms, including eCommerce, Tech, and SEO. Her brevity-rich writings flash a light upon the uncovered yet important points about WordPress and eCommerce plugins. Apart from content, Monisha spends her free time learning calligraphic writing.