If you think that running a website is a full-time task, you might want to earn some money. There are different ways through which you can earn extra cost, like through affiliate marketing. 
Additionally, reseller hosting is an ideal option for you. Offering cheap reseller hosting services to your customers is the best way of earning an additional income.

Definitely, you will require all the key resources and tools to make your reseller hosting business a success. Reseller hosting is a profitable venture. 
There are web hosting providers that offer reseller hosting services to clients. Hostgator, Inmotion hosting, MilesWeb, Resellerclub are among the reseller hosting providers.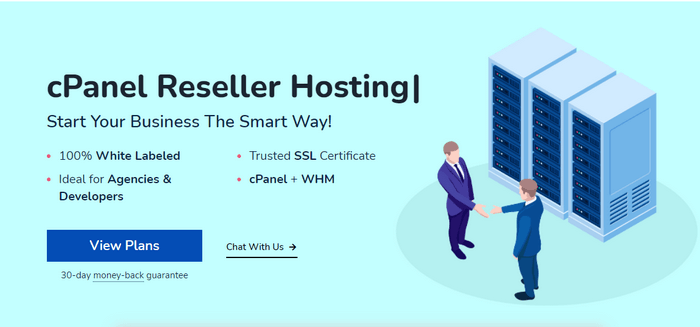 MilesWeb is a cheap and dependable reseller hosting provider that offers both Linux and Windows VPS hosting. Meaning, MilesWeb's products, services, and your brand. Their reseller hosting plans makes it super-easy for you to start or grow your web hosting business. 
They have created a mark in the hosting industry for offering reliable and affordable web hosting services. 
In this blog post. We'll take an overview of their Linux reseller hosting service that will help you to make a well-informed decision. 
What is Reseller Hosting?
Reseller hosting is when you rent server space from a web hosting provider and then sell it to your clients. You can offer hosting as an extra-addon or include it as a part of your design or development. 
It is a good option for entrepreneurs who want to start their web hosting business. The web hosting provider offers you numerous reseller hosting plans from which you pick according to your requirements.
Getting started with reseller hosting is simple. You need to purchase a reseller hosting plan and allocate resources to your clients according to their requirements as selling it to your clients. 
Some key factors you need to know before purchasing a reseller hosting plan. 
Get to know about your hosting needs. 
Uptime guarantee that the company offers. 
Know if there is a money-back guarantee. 
Know About the Advantages of Reseller Hosting
With reseller hosting, you can make profits easily. 
Design your own web hosting packages and plans that you can give to your clients. 
You can bill the customers and sell products under your brand name. 
You don't have to worry about the management of the server. As it is done by the web hosting provider from whom you buy the reseller hosting plan. 
The biggest benefit of becoming a reseller host is finance. You get a steady side income. 
Beginner, Geek, SMB, and Agency are the three plans for Linux reseller hosting with MilesWeb.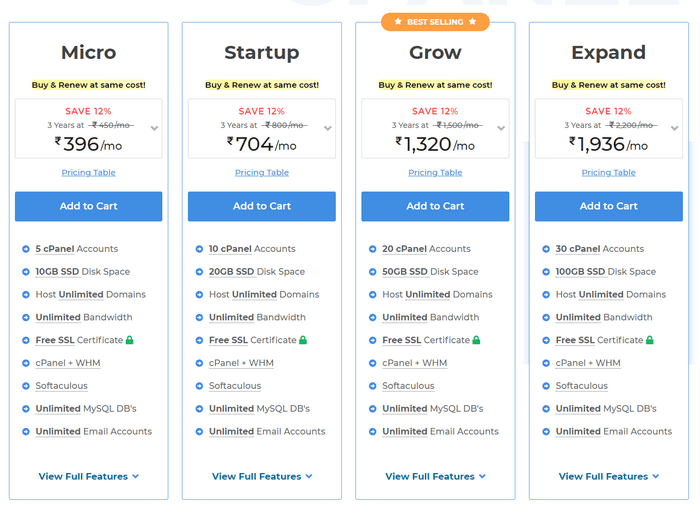 With all the reseller hosting plans, you will get the below features. 
SSD Disk space 
Unlimited bandwidth
Free SSL certificate
Free Softaculous
Control panel/Admin panel 
Unlimited email accounts
Unlimited MySQL databases 
The reseller hosting plans of MilesWeb costs Rs.315/m on a three-year subscription. If you need more cPanel, reseller hosting accounts. You can go with the Expand plan. It costs Rs.1,540/m when you subscribe for three years.
The prices are given after a 12% discount. Thus, you can earn money the smart way with MilesWeb's reseller hosting. 
What Features You Get with MilesWeb's Reseller Hosting?
Host Unlimited Websites
You can make cPanel with each plan of MilesWeb's Linux reseller hosting. There is not a single restriction on the Sub-domain and Add-on domain that you can add under one cPanel account. 
100% White Labeled System
You get powerful white-labeled reseller hosting with MilesWeb. With this, you can sell services under your own brand name. When you have a white-labeled system.
It limits the visibility of your retailer from your clients so that they can sell the products under their own brand name. 
SSD Storage
Get up to 200x faster speed and performance with enterprise Solid State Drives. Traditional HDD drives take you nowhere, whereas websites stored on powerful SSD drives deliver better performance to your websites.
Choice of Location
Pick the server location that is nearest to your clients for your reseller hosting business. We have options for data centers, including the United States of America, Canada, Singapore, Australia, India. 
Softaculous One-Click Installer
Now install WordPress, Drupal, and eCommerce applications like Magento and 400 plus applications with the one-click installer. It makes it easy to automate the installation of applications to your website. 
cPanel Control Panel
MilesWeb uses cPanel, a leading control panel in the web hosting industry. Through the control panel, you can monitor the disk usage, space, and bandwidth. You also have the right to terminate the accounts of your clients. 
24×7 Expert Support
MilesWeb has an instant resolution to all your queries or issues with 24×7 customer support. They have a team of trained hosting experts who resolve your issues at the earliest. You can reach out to them through email, live chat, phone, or tickets. 
30 Day Money Back
If you want to claim a refund for any reason, MilesWeb offers the refund of your money within the first 30 days of your reseller hosting plan purchase. 
Conclusion
Register for MilesWeb's reseller hosting plans today and start earning money the smart way! They offer a 100% white labeled system that allows you to sell the services under your own brand name.
This post is a guest post by MilesWeb.
WPBN is curated news aggregator website focusing on trending and hot news from the WordPress community.