WordPress users have a major advantage of using thousands of plugins to make their website gorgeous. Then why need an image gallery plugin? Yes, we have the power of uploading images randomly.
But, does it look good? No!

When it comes to building a gorgeous and attractive website, you have to showcase some impressive images. Now, displaying photographs gracefully without ruining viewer pleasure is difficult. To make this difficult job easier for you, here is the best seven image gallery plugins that will change your viewers' experience.
NextGEN Gallery (Free)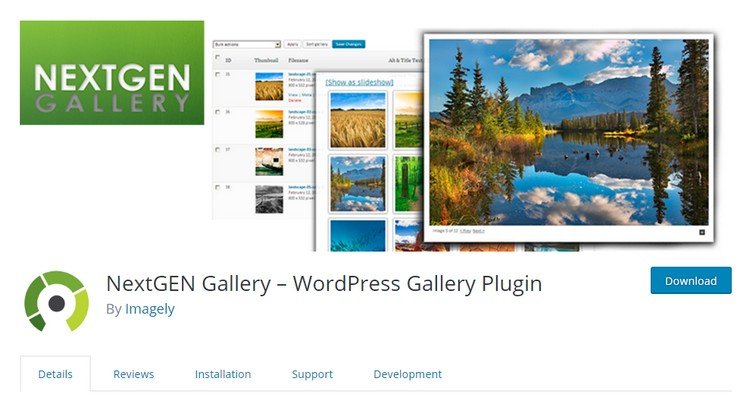 From 2007 NextGEN Gallery is pleasing the WordPress users with their great and innovative services. With more than 1.5 million downloads per year, it is a crazy awesome plugin. It is simple but powerful enough to grab the attention of the WordPress users. Professional photographers and artists are already in love with this plugin. NextGEN offers both back end and front end services. The back end facilities of NextGEN may include complete gallery management, batch photo uploads, arrange/add/delete/edit photos and thumbnail editing. The front-end services may include two different gallery display styles (thumbnail and slideshows) and two album styles (extended and compact). This plugin is completely free.
Huge-IT Image Gallery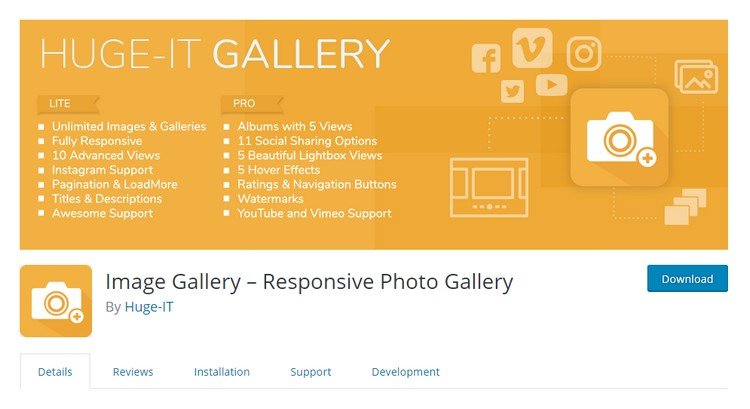 This one is a very interesting gallery plugin. The Huge-IT Image Gallery handles images in a different but definitely better way than many other plugins. This plugin also offers different gallery layouts to make your website beautiful. With this plugin, you will have the power to custom descriptions and titles that display alongside the images. You can display selected images inside a masonry layout, grid layout, in different slides along with a nice pop-up functionality. This plugin is available in three different packages; namely, Free, Personal ($29) and Multisite ($45).
Envira Gallery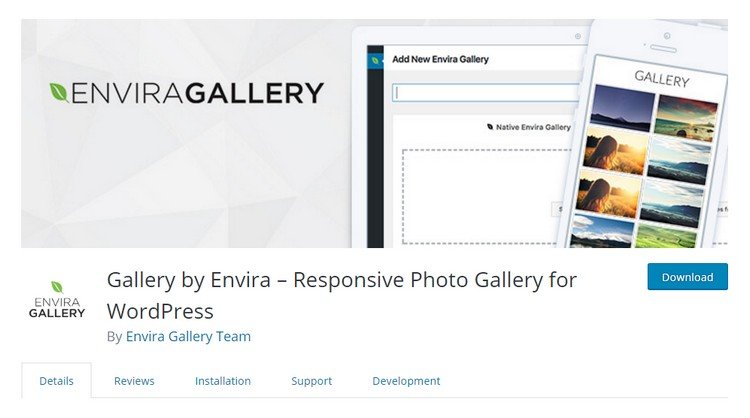 The developers of Envira Gallery believe that WordPress users don't have to hire WordPress site developers to create beautiful WordPress gallery. Envira Gallery is a kind of drag and drop photo gallery plugin. This one is simple to use as well as powerful. It takes only a few minutes to set up the plugin and offer a greater gallery view. It improves user experience through beautiful video gallery and photo gallery. This is one of the best responsive photo galleries for WordPress. This means, your image gallery will look awesome on every device, including mobile, desktop, tablet and laptop. This one is highly optimized for server and web performance, which boosts SEO and conversion. This light version plugin is available at 'zero' bucks.
Justified Image Grid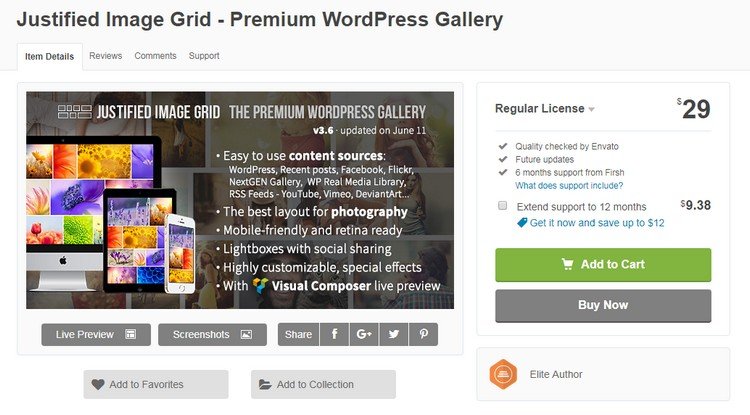 This amazing gallery plugin will cost you $28. Justified Image Grid is one of the best-selling gallery plugins for WordPress on CodeCanyon. The download rate of this plugin is more than 12,000 units per day. Most of the WordPress users experience difficulties as the gallery plugins use 'fixed aspect ratios." The problem with fixed aspect ratio is that it crops your images awkwardly. With justified image grids, you can solve this issue. The Justified Image Grid plugin uses jQuery and aligns the images automatically into stylish grids giving an impressive look to your website. This plugin also supports customization galore, which includes a whopping 340-customization setting as well as 20 different gorgeous templates.
Foo Gallery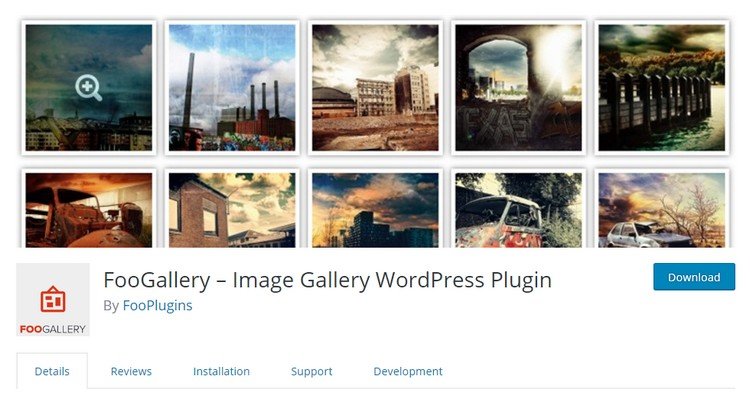 With 100,000+ active installs, FooGallery is one of the best image gallery plugins for WordPress sites. The Plugin Foo galley has many features, to name a few: retina-ready, responsive, stunning gallery layouts, easy to use and lightning fast. The retina-enabled displays of this plugin improve user experience by offering crystal-clear thumbnails that look amazing on all devices. With FooVideo premium extension, you can also create ideal video gallery. In fact, this plugin enables you to create a mixed gallery of video and images that give a gorgeous look to your website. You will also find built in albums as an extension. This plugin is simply beautiful and designed as most-developer-friendly WordPress gallery plugin. Hence, most of the WordPress support providers highly recommend this plugin.
Awesome Gallery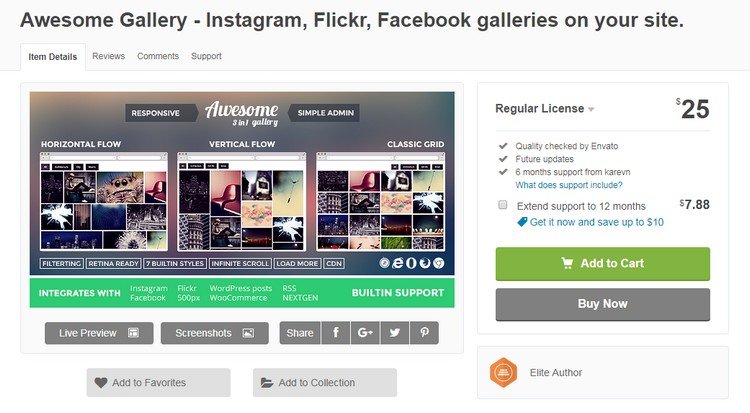 This amazing Awesome gallery plugin is popularly known as a three-in-one plugin as it offers three distinctive gallery styles, namely: Vertical flow, Horizontal flow, and classic grid. These three styles are immensely important Why? Because landscape images look better in horizontal flow suit, the vertical flow suits are ideal for portrait photographers. Most of the WordPress users experience that uploading a lot of pictures slowed down the websites. Using Awesome Gallery can solve this problem as it makes the site light fast and supports SEO predominantly. Apart from that, you can also source images directly from Facebook, Instagram, WooCommerce products, Flicker, WordPress media library and 500px. However, this plugin will cost you $25.
Responsive Photo Gallery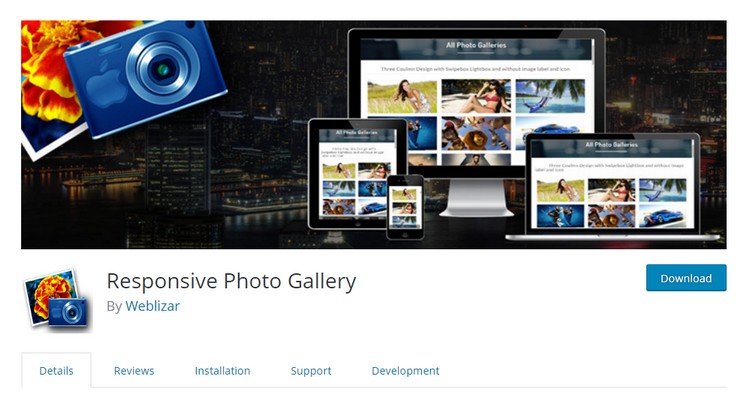 Last but not the least plugin in this list is Responsive Photo Gallery. This plugin is built up by Weblizar. According to the developers and users of this plugin, this plugin is 100% responsive and built on the Bootstrap method, which makes it super-fast. It is easy to install and with few clicks create a beautiful and gorgeous photo gallery. You can showcase photos, videos, and products with the help of the magnificent lightbox. Along with this feature, you will also get various features including shortcodes, two design layouts, fade animation effect, multiple gallery option and translation-ready.
Summary
Years ago, it was difficult to have an image and video rich website without making it slow. Either you have to use plugins or take expert helps from the WordPress developers to increase page. However, downloading plugins from the random sites may lead to WordPress site errors. Hence, we have presented seven selective plugins that can improve your site and give a gorgeous look without causing any error.

David Statham is attached to Website Design and Development since past six years. With in-depth knowledge in this field, he is pursuing his career as a WordPress expert at WpWebhelp.com. David believes in sharing knowledge and enlighten those who are novices in Website Design and Development field, which influenced him to become a professional blogger in this field.