The world is rapidly evolving, and with the changes come improvements. When it comes to progressive change. No other industry could be used as a better example than Information Technology, or what we commonly call IT. It has become a dominating force across various fields in the past decades, and it will become an even bigger force in the years to come.
If the 21st century can be surmised into one word, it has to be "connectivity." Almost everything is connected, from acquaintances separated by thousands of miles to a CEO cooperating with her entire team right from her smartphone. All these connections are made possible with the help of IT.

IT is a vast concept that incorporates various practices which involve managing and processing information within a company or organization. However, thanks to advancements in the industry, IT has become much more than that. It has made itself the core of every company powered by computers and digital information.
All big brands are powered by IT. It's impossible to find one organization that doesn't use it in some form. Our reliance on IT isn't exactly a bad thing as it can bring all sorts of improvements within an organization such as efficiency, security, and of course, growth.
How fast does IT grow? Around 89% of companies believe that their IT budget will remain the same or increase this year. This basically means that more investments could be poured into the industry by the end of the year. Don't forget, however, that this is just one statistic that showcases the IT industry's present state and the promising future.
If you wish to find out more figures and facts about this booming industry, the infographic below is a good place to start. Check it out.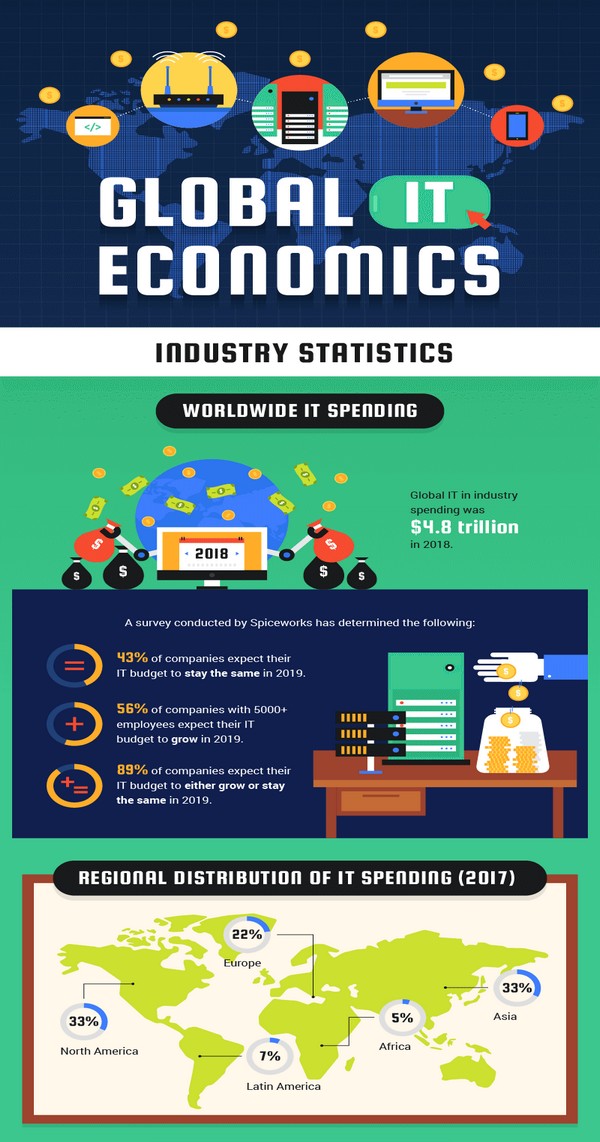 Karthik Reddy, Community Manager at TechJury.net, is the author of India's Number 1 travel blog. Boasting an MBA in computer science, he once decided to get away from the office desk life and take a breathtaking journey around the world. He is eager to use the power of the global network to inspire others. A passionate traveler and photography enthusiast, he aspires to share his experiences and help people see the world through his lens.